Okdo Excel Merger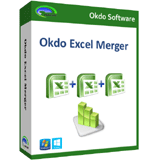 Okdo Excel Merger is a powerful application which can be used to merge several more excel worksheets into one new worksheet or merge excel files into one new workbook with multiple worksheets. It also allows users to merge a batch of excel documents and combine the specified excel worksheets together in a short time. With a user-friendly interface, you can quickly and easily master how to use Okdo Excel Merger. With a few clicks, the program will automatically merge your Excel files.
OS Supported: Windows XP, Windows Vista, Windows 7, Windows 8/8.1, Windows 10
Price:

$29.

95

Advanced Features
You can merge data from one or several worksheets/workbooks without opening them.
Supported file formats: Excel 2013, 2010, 2007 and 2003(*.XLS, *.XLSX, *.XLSM)
Supports merge excel documents with quick mode (Does not require Microsoft Excel)
Merge multiple excel workbooks or worksheets in seconds
Merge data from multiple worksheets into a single worksheet
Merge data from multiple workbooks into a new workbook(multiple worksheets)
Merge specific worksheets from workbooks into one workbook or one worksheet
Merge all workbooks from a directory into one workbook or one worksheet
Supports stack data from top to bottom in the output worksheet
Supports stack data from left to right in the output worksheet
Supports insert the number of blank rows/columns between worksheet contents in the output worksheet
Supports customize the output path.
Fast merging speed and high quality output.
More...
FREE customer support
If you face any problem while installing or using the Okdo Excel Merger, we are there to provide guidance and technical support. All you need to do is to send us your queries at support@okdosoft.com.
Supported Formats
Input Formats

Excel File

*.xls, *.xlsx, *.xlsm


Output Formats

Excel File

*.xls, *.xlsx, *.xlsm

Screenshots
1.Merge all excel worksheets from workbooks into new workbook or worksheet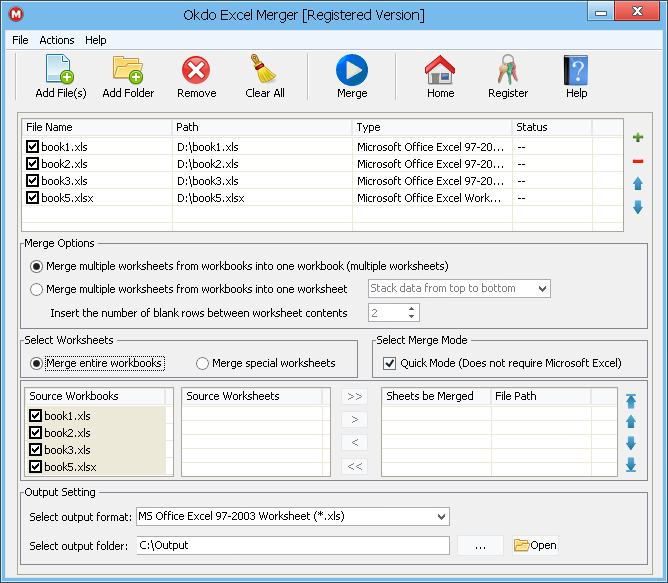 2.Merge special worksheets from each workbook into one new workbook or one worksheet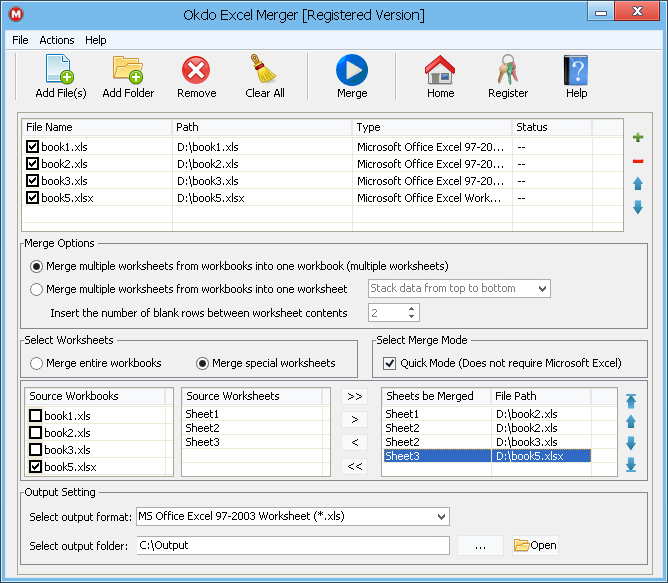 Awards