Okdo PDF Splitter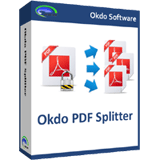 Okdo PDF Splitter is a powerfull and lightning-quick desktop utility program that lets you split any Acrobat PDF file into smaller PDF files.
It provides numerous alternatives for how your large files are split - by pages, by files, by special page ranges and by odd/even page.
Even you can extract or remove part of a PDF file. With the application, users do not need to install any Adobe products, yet can quickly and easily split PDF files without losing original formats.
Note: It does not impose any watermark string on result PDF file(s) when you are using the Free Version. If you want to Split large PDF files (bigger than 100 pages) then our suggestion is to upgrade to the Okdo PDF Splitter Full Version.
Key Features of Split PDF:
Standalone program. Does NOT require Adobe Acrobat or Reader.

Drag and drop supported.

Supports password protected PDF files

It support select spliting methods for each PDF file flexibly:

1. Split by every n pages:

This split mode allows you to divide a multi-page PDF file into several PDF files with n pages per file.

2. Split averagely to n PDF file:

It enables you to split multi-page PDF file averagely to several PDF files with equal page numbers.

3. Split specific page ranges to a single PDF file:

lets you flexibly choose the specific pages you want to extract from the multi-page PDF file and combine them into a single new PDF file.

4. Split multi-page PDF file to multiple PDF files:

It enables you to divide target PDF file into multiple PDF files by specific page ranges chosen by users. You can differentiate the parameters with semi-colon (;) to split and create many files with different page requirements.

5. Remove special pages from PDF:

By selecting range, you can remove unwanted PDF pages or useless parts.

6. Split each odd page to single PDF:

Select this option when you want to extract only the odd pages from the PDF file.

7. Split each even page to single PDF:

Select this option when you want to extract only the even pages from the PDF file.

It has option to open result document after process completion.

Supports create separate output folder for each source PDF.

Supports save the output PDF files into the folder where the source file is.

Customize a folder to save the output PDF files all together.
System Requirements:
OS: Windows XP (SP2 or later), Windows Vista, Windows 7 / 8

Processor: 1GHz Intel/AMD processor or above

RAM: 256MB RAM (512MB or above recommended)

Free Hard Disk: 100MB space for installation
FREE customer support
If you face any problem while installing or using the Okdo PDF Splitter, we are there to provide guidance and technical support. All you need to do is to send us your queries at support@okdosoft.com.
Screenshot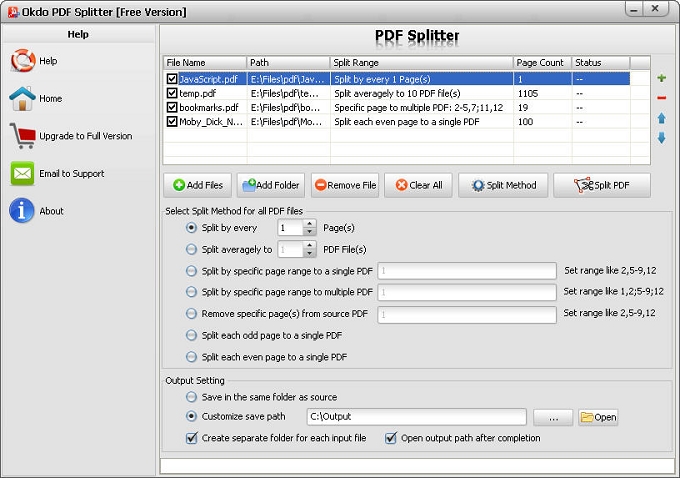 Awards